I wrote an article before the start of the season on where the Liverpool goals could come from. You can find it here.
This article compares what I predicted earlier this season, and what actually panned out.
Boys, turned to men. Top 8, turned to top 4. Doubters, turned to believers. Klopp's philosophy, from day one, was based on the collective rather than the individual. Having been linked with several top star players in July/August 2016, Klopp didn't cave into their demands of a higher wage due to lack of CL.
Cue fans' panic.
It seemed almost inevitable that the paper thin squad would crumble, even without the demands of European competition. And for a while in January, it seemed as if the panic was justified as Liverpool surrendered second, third, and a place in both Cup competitions. Fans were irate that we didn't strengthen in August, and failed to replace Mane, Ings and Coutinho in January. Cue more panic.
Klopp maintained his unwavering faith in his squad, changed his philosophy and turned the team from an offensive juggernaut into a defensive force, culminating in four clean sheets in the last four league games. UEFA Champions League. Cue rejoice.
Daniel Sturridge. Predicted: 15 goals. Scored: 7 goals.
The injuries may never go away. Neither will the transfer rumours. Sturridge had a good season, when you look at the goals-to-minutes ratio. He even passed the eye-test, making things happen off the ball that no other player in the squad is capable of. Liverpool would do well to find a striker that could replace him. Liverpool would do even better to keep him fit and firing.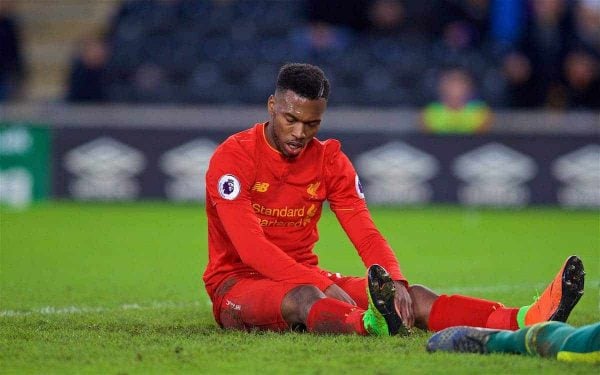 Divock Origi.
Predicted 10-12 goals. Scored 11.
I was spot on. Origi's development went a step further this season, and he got much needed game time. However, his performances did underwhelm a fair bit. I've always said we needed a striker who could grab a goal even while not playing well, and Origi did that to perfection. But, his good performances were few and far between; needs more consistency.



Roberto Firmino. Predicted 15 goals. Scored 12.
I expected to Firmino to improve on his previous tally of ten goals. He did. But it wasn't a significant improvement. He needs to be less anonymous in games where there isn't a flow to our style of play, needs to get into the box more, and needs to be clinical when the chance presents itself, a la Southampton away.
Sadio Mane. Predicted 10-12. Scored 13.
Could've had more, maybe even 20, if it wasn't for injuries and a break away from the PL at AFCON. Mane was among the signings of the season and was Liverpool's best player while fit. He was sorely missed in January and towards the end of the season, when we managed to snatch losses from the jaws of victory.
Phillipe Coutinho. Predicted 8-10. Scored 14.
What a season from the little magician. Missed key fixtures from October to Jan, but still managed to be Liverpool's top scorer. His free kicks were a sight to behold and he scored crucial goals to grab three points on various occasions. He maybe little, but he's nothing short of a big game player. Liverpool's best bit of transfer business this summer could be retaining this wee man.
Lallana + Wijnaldum.
Predicted 10. Scored 14.
It could be argued that Lallana was our most improved player from last season. He showed tremendous nous and temperament to adapt to a central midfield role this season. His work rate and deft touch outclassed defenders on many a occasion. Among England's top three players.
The curious case of Gini Wijnaldum. The gulf in quality of his performances at home and away from home is massive; he's yet to register a goal away from home. Gini finished as our top assist man in the PL with 9 assists, and like Lallana, showed great temperament to adapt to a more central midfield role.
Central Midfield. Predicted 10. Scored 7.
Emre Can scored 5, one goal of the season. Henderson scored one. Lucas scored one. Technically, Lallana and Wijnaldum played in central midfield for a majority of the season. However, at the start the season, it remained uncertain what roles they would have. Fair to say, the central midfielders did their job. A total of 21 goals from the five players is a great output.
Defence. Predicted 5. Scored 11.
Seven of these goals came from James Milner's penalties. Could've had 12 in total, but let's give Fraser Forster some credit. I did not expect James Milner to be our starting LB. He has been a top professional and led the team to top four when the pressure was the highest. He scored some crucial goals: Swansea away, Spurs away, ManUtd away, ManCity away. Big game James. Every team has a penalty specialist, ours just happens to be part of the defence. The defence has to score more though, especially from set-pieces. Part of the reason we don't is that our deliveries have been piss poor for 34 out of the 38 league games. Found more heads in the last four games, but it should've come much sooner.
Others.
Predicted 5. Scored 1.
Ben Woodburn became Liverpool's youngest scorer. Benteke and Lazar were sold. Moreno is garbage. Game time was the biggest obstacle for some of the fringe players, and even when they got their chance in the FA Cup, didn't make the most of it.
Liverpool Football Club did not have a single player that dominated the scoring charts, scoring 25+ goals to carry them into the top four almost single-handedly. No, Klopp built a squad that isn't dependent on any one individual but on a group of players that work like a well-oiled machine that brought the club to fourth on the table and fourth on the goals scored charts. The progress was evident from last season and a couple of big name players and some solid backups, and Liverpool could well be on their way to be perennial title contenders. Touch wood.



LFC fan from Bangalore, India, trying to to make his way to the hallowed grounds of Anfield. I love tactics, scouting and a certain nutmegging Uruguayan.
Latest posts by Arjun Vedam (see all)